What is Letterboxing? "Letterboxing is growing hobby that combines elements of hiking, treasure hunting and creative expression into an activity that the whole family can enjoy." People hide a waterproof box containing a rubber stamp (usually hand carved) and a log book. Then clues are posted, usually on the internet. Others can follow the clues and find the box, stamping the log book with their own stamp and stamping their own logbook with the stamp from the box. Then the box is hidden back where it came from for the next searcher. (It is similar to geocaching except for the stamps and the fact a GPS unit isn't needed). See http://www.letterboxing.info/articles/00000001.php for a complete description.
Our Letterboxes

Surveyor's Nightmare

Placed: 2 September 2006
Clue difficulty: difficult
Travel difficulty: difficult - woodland with no trails, about 300 ft. climb.
Needed: Good compass, something to measure distance, insect repellent, good hiking shoes and clothing.
Child Friendly: No. Older teens who like outdoor activities may enjoy it.
Stamp: hand made
Status: Active
Last checked by us: Saturday, August 08, 2009. Number of stamps in log: 2 (found by the team of "Bat Cave" and "Double Deuce" 12/17/2006).
Notes: No stamp pad in this box, please bring your own.
In response to an online discussion recently concerning a majority of letterboxes not requiring much effort to find, I have tried to make this letterbox much more difficult to find than most. It will require both some mental effort and a lot of walking. There are few trails here, only a few long abandoned logging roads. Orienteering experience would be helpful but is not absolutely necessary. If you become lost (or slightly disoriented, guys!) walking a course of 300 deg. (or straight downhill if you lose or break your compass!) will bring you back to the road, and taking a left and following the road will bring you back to your car. You might want to avoid this area during deer season unless you are a hunter. You also should not try this site during the late Fall-early Spring freeze-thaw cycle - all those rocks came off the cliffs up above!
Before setting out please read and agree to the Waiver of Responsibility and Disclaimer.
As America was settled, it was necessary to lay out roads, canals, railroads, and to divide the land up into farms and building lots. This was done by land surveyors using rather primitive equipment, laying lines through the wilderness without benefit of the satellite photos, GPS, lasers, or computers that are used today.
I laid out the trip to the letterbox with 18th and 19th century land surveying equipment. I began with a B. Rittenhouse compass (late 1700's) and a W. E. Gurley #10 iron chain of unknown age, but was plagued with a sticky needle so switched to a Benjamin Pike Jr. compass (mid 1800's) for the last half, re-checking the earlier measurements on the way in and double checking the chain measurements with a tape measure. I then drew up the route on paper and checked the measurements and math. Some of the chain measurements I converted to other early measurements used in surveying to give you something extra to do. As few of you will have antique surveying equipment, the best way to follow the directions would be to convert the old surveying units to feet, find out how long your stride is, then convert the feet to paces. The compass directions should be easier, you just need to convert them to the more modern 0 - 360 degree scale. NOTE: To make an accurate survey through woodland involves cutting a path to sight the compass and stretch the chain. Obviously, I couldn't do this, so there will be some inaccuracy due to working around trees - though the math check showed it fairly accurate. I have included seven photos to help you compensate for this.
Some links on surveying to help you (all you need should be here) and for your entertainment:
DIRECTIONS: From North Bennington, Vermont take White Creek Road at North Bennington Variety Store. After 2.6 miles the road enters New York State and becomes Washington County Route 68. Proceed for 5.3 miles from the State Line to a road on the right named after the sixteenth President of the United States.
From Cambridge, NY take Rt. 22 south for about 5 miles, turn left on County Route 68 just before a self-storage facility and Cone's Garage. Take County Route 68 east for 1 mile to a road on the left named after the sixteenth President of the United States.
Take this road and drive for 1.4 miles. Find a road to the left named after an extinct American religious sect. Take this road for 1.1 miles to a fork. Take the right hand fork for 0.2 miles to a small pull off where you can park. This last section is rather rough but usually you can make it in a car unless you have very low ground clearance. If it looks impassable, you can park at the fork and walk in.
Walk northeast along the road. Enjoy the woods and the brook as you head northeast towards the Barber Hills. This is a nice walk on a sunny summer day. You will come to a clearing where a farmhouse once stood, which has been used more recently for logging. At the north end of the clearing the road passes a large rock on the right and goes up a steep hill. Beyond this rock the road is impassable to all but off-road vehicles. Shortly past the top of the hill you will see a boulder on the right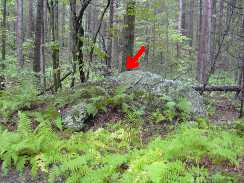 with a tree behind it. Here the easy walk ends and the work begins!
From the base of the tree behind the rock the way runs South 81 degrees East for 3 chains 38 links to a rock next to a stone wall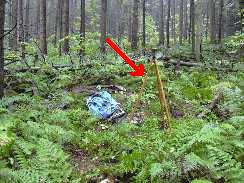 , then runs South 52 degrees East, parallelling the stone wall for 2 chains 58 links to a point where another wall joins from the northeast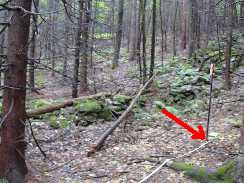 . From this point follow a line North 5 degrees East for 3 chains 20 links to a point marked only with a small stone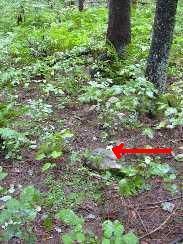 , thence North 4 degrees West for 1 chain 44 links to another unmarked point,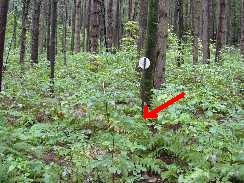 thence North 73 degrees East for 12 rods to a tree near a stone wall.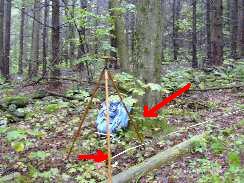 The route then parallels the stone wall on a course of South 60 degrees East for 24.5 vara to a corner with two old stumps,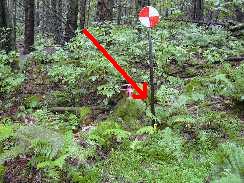 then runs South 38 deg West for 2 chains 51 links parallelling another stone wall to a small "V" in the wall. Here it turns to South 63 degrees East for 1 chain 46 links over a large rock. From the uphill point of the rock the path runs at South 52 degrees East for 3 chains 86 links to another large rock. From here follow a course of South 63 degrees East for 3 chains 48 links to the end of the search. Look up - you will see a large spruce growing out of the rock. The letterbox is on a ledge behind it under some rocks. Be careful in retrieving it and please put it back where found and cover it back up.
I am experimenting with a new method of making stamps. This box contains the second successful attempt. It is still somewhat primitive, but better than the first. There is no stamp pad in this box, so please bring your own.

Paula Welden Letter Box
Placed: Saturday, 30 December 2006
Clue difficulty: easy
Travel difficulty: easy
Needed: Compass
Child Friendly: yes
Pet friendly: yes
Stamp: hand carved
Status: Active.
Last checked by us: May 29, 2008. Replaced stamp. Number of stamps in log: 14
Notes: No stamp pad in this box, please bring your own.
On Sunday December 1, 1946, 18 year old Bennington College student Paula Jean Welden went for a hike on the Long Trail, which at that time ran up this valley on the bed of the old Bennington and Glastenbury railway, now FS 288. (The LT has since been relocated to the east). She would have passed the point where the letterbox is located at about sunset, and then she vanished forever. Despite a massive search, no trace of her was ever discovered. See tkrice.tripod.com/welden.html for the full story.
Before setting out please read and agree to the Waiver of Responsibility and Disclaimer.
From downtown Bennington, Vermont take Route 9 east from the four corners where the clock is located. Drive east for 3.7 miles. You will cross a bridge and the Woodford Town Hall will be on the left. Take a left onto Harbor Road and drive 1.7 miles until you reach the end of the road. There is a small horse farm here with a number of "no parking" signs. DO NOT park here! Drive straight on through the gate onto the Forest Service Road (FS 278). Take it easy here as the road is rather rough - your new Corvette probably won't have enough ground clearance, but my 1990 Metro had no problem! (This road is not maintained in winter or mud season). About 0.1 mile up the Forest Service road there is a wide spot where you can park. Walk along the road. You will cross a bridge and soon come to a place where FS 278 and FS 288 fork.
From the spot where the road forks, follow a course of 245 deg. for 100 paces. You will see a triple-trunked (black cherry?) tree. A short distance behind it is a rock. The box is under the rock on the side facing the tree, hidden under leaves and sticks. Please replace it and hide it well.
A short hike further up FS 288 will bring you into the new Glastenbury Wilderness Area. (The fork in the road and letterbox are in the National Forest, but just outside the Wilderness Area boundary). I believe this trail still will take you all the way to the top of Glastenbury Mountain if you have the time and inclination, but please find a trail map and follow good hiking practices - dress properly for the weather conditions and let someone know where you are going and when you intend to return.
This box contains a conventional hand-carved stamp.

Men of Faith Series(2).
These two boxes are overtly Christian boxes, so if this bothers you you might not want to bother with them.
Men of Faith Series #1: Abraham Bininger Box

Placed: May 20, 2007
Clue difficulty: easy
Travel difficulty: easy
Needed: Compass
Child Friendly: no
Pet friendly: no
Stamp: hand carved
Status: Active
Last checked by us: August 23, 2008. Number of stamps in log: 7
Notes: No stamp pad in this box, please bring your own.
Abraham Bininger was a Moravian missionary, primarily to the Indians in the Kent, Connecticut area. He was born in Switzerland in 1720 and came to America with his parents and brother in 1735. His mother died on the voyage over and he settled with his father and brother in Purisburg, SC. It was on this voyage over that Abraham first came into contact with the Moravians, particularly the Spangenbergs, but his father seems to have been rather hostile to them. Being carpenters, the Biningers went to help build Fort Frederica in Georgia in 1736. Abraham's father died there and Abraham and his brother returned to Purisburg. By 1739 Abraham was working for George Whitefield in his orphanage where he remained until the blowup over predestination in 1740, except for a short leave to participate with his brother in Oglethorpe's expedition against St. Augustine. In 1741 he and his Moravian friend John Hagen left Whitefield and moved to Savannah, then Abraham went to Philadelphia, where he joined the Moravians in 1742. In 1746 he married Martha Mariner of NY (a marriage arranged by the Spangenburgs). He taught school in the Susquehanna region until 1749, when they moved to Patgatgoch in Connecticut. From 1752 to '56 his whereabouts are uncertain, but in 1756 he moved his family to St. Thomas in the West Indies, where they remained less than two years. In 1760/62 they seem to have left the ministry and moved to NYC, where Abraham became good friends with Philip Embury, another carpenter and the major founder of the Methodist Church in America. In the 1770's both the Bininger and Embury families moved north to the Camden Valley, where they remained for the rest of their lives. Martha died in 1804 and Abraham in 1811. For more information on Abraham Bininger, see http://tkrice.tripod.com/bininger.html.
Before setting out please read and agree to the Waiver of Responsibility and Disclaimer.
From the stoplight at the intersection of Routes 22 and 372 in Cambridge, Washington County, NY, take East Main Street east to Route 313. Turn left on 313 and proceed 6.3 miles north to Washington County Route 61. There is a sign at this intersection saying "Shushan". Turn left and go west 0.4 miles to a stop sign. (Or before getting to this intersection, take a left on the road to the Eagleville Covered Bridge. Cross the bridge, turn right, and go north until you arrive at the west end of the bridge on 61. Then continue with the original directions) Take a right and go 0.8 miles north, turning right onto Camden Valley Road. Travel northward 0.9 miles and you will come to the "Old Moravian Cemetery". Parking is limited here - try to get as far off the road as possible. Look for the tallest stone in the cemetery. You will find the inscription interesting to read. From the stone, look in the direction of 155 deg. You will see a broken tombstone leaning against the wall. The letterbox is behind this stone. You can access it by reaching behind the left side of the stone. Please hide it well when returning it.

Men of Faith Series #2: Philip Embury Box

Placed: May 20, 2007
Clue difficulty: easy
Travel difficulty: easy
Needed: Compass
Child Friendly: no
Pet friendly: no
Stamp: hand carved
Status: Active
Last checked by us: May 20, 2007. Number of stamps in log: 0
Notes: No stamp pad in this box, please bring your own.
Philip Embury is known as the founder of the Methodist Church in America. His birthdate and place are uncertain, but he was born in either 1728 or '29 in either the Palatinate in Germany or in Ireland. He was apprenticed to a carpenter. In 1752 he became a Christian and also about then heard John Wesley preach for the first time. In 1758 he married Mary Switzer and began preaching. In 1760 they moved to NYC, but he soon became discouraged and quit preaching. In 1766 his cousin Barbara Heck motivated him to begin again and joined by Captain Thomas Webb, they soon had a congregation. In 1768 they leased a site on John Street and bought it in 1770. There they built the Wesley Chapel and had at least 1000 listeners within three years. Philip ministered there faithfully until Wesley's missionaries arrived in 1769. In the 1770's he retired to the Camden Valley with the Hecks and several other Methodist families, also with his good Moravian friend Abraham Bininger. He founded another Methodist society in Ashgrove, but died in a farm accident in 1775. For more information on Philip Embury, see http://tkrice.tripod.com/embury.html. Most of the Methodists chose the losing side in the Revolution and had to flee to Canada. Camden later became a Moravian colony.
Before setting out please read and agree to the Waiver of Responsibility and Disclaimer.
From the stoplight at the intersection of Routes 22 and 372 in Cambridge, Washington County, NY, take route 22 north for 0.5 miles. Be careful, this section is all a 30 mph speed limit and the police love to pick up speeders on this stretch. Turn left and drive west to the next intersection. Go straight through the cemetery gates and take your second left, going up a steep hill. At the top, there is a fork. Park here wherever you can find room. To your right is a tall pillar with "Philip Embury" engraved on it. At the foot is a flat stone with an inscription. From the foot of this flat stone, walk 35 paces at 80 deg. You will find an old foundation. Walk along the left wall. Near the end a small slab leans against the foundation. The box is behing this under a flat stone and some leaves. Please be sure to hide it again well.
I have labelled these two boxes as not child or pet friendly, as pets can be a nuisance in cemeteries and several children have been crushed over the years climbing tombstones and pulling them over on themselves. However, if your pets and children are under control, you can use your own judgment.

DLBCC Hitchhiker

Placed: July 22, 2007 in the "Alternative Energy" letterbox in Wilmington, Vermont.
Stamp: hand made
Status: active
This stamp was carved during our vacation at Delta Lake Bible Conference Center in Rome, NY during the first week of July. It shows the main tabernacle, built in the early 1900's and seating 1400. There aren't many of these unusual structures around - I believe there is another smaller one in Round Lake, NY.

This box was last reported found at State College, PA in Nov. 2007.

Nov-3-2014