The Mysterious Disappearance of Paula Jean Welden
Summary:
Paula Jean Weldon was 18 years old and a sophomore at Bennington College in Bennington, Vermont in 1946. She was the eldest of four daughters of William Archibald Welden of Stamford, CT - a design engineer at Revere Copper and Brass. (He designed those whistling tea kettles with the trigger that flipped up the whistle to pour the water, also the copper bottomed pans, among other things). Her sisters were Pamela (16), Stephanie (14), and Heather (5)1
On Sunday December 1 Paula worked her usual job at the Commons at Bennington College, then returned to her room, changed into jeans and sneakers, put on a red parka, and told her roommate she was going for a long hike. She was seen by several other students heading down towards Rt. 67A. Danny Fager, at the service station across from the College Entrance, saw her walk down the drive about 2:30, turn to her right and run up a small knoll at the college entrance, run back down, and walk down Rt. 67A towards Bennington. Louis Knapp picked her up at about 2:45 and took her as far as his home on Rt. 9, about 3 miles from the Long Trail. She told him she intended to hike on it. He dropped her off about 3:15 PM. At about 4 PM Ernest Whitman and three friends coming out of a camp in Bickford Hollow met her and she asked Ernie about the Long Trail and how far it went. They saw her head over a bridge leading to the trail. (To get from Knapp's to where Ernie talked to her in the time allotted, she must have gotten another ride from someone who never came forward). Several other Woodford residents claim to have seen her in the vicinity of Fay Fuller Camp, further up the trail, but there was another girl who looked somewhat similar staying there with a man, so these may not be reliable. Sunset was at 4:20 PM, so she was heading up the trail just before dark with inadequate clothing and no supplies. She was never seen again.
---
---
Index
---
---
The story day by day as reported in the press:
The first reporting was Tuesday, December 3, 1946 in the Bennington Evening Banner:
Sunday, December 1, 1946: According to accounts, she worked two shifts in the dining hall and returned to her room in Dewey Hall Dormitory . After telling her roommate she was through with studies and was going to take a long hike, she changed into blue jeans and a red parka and headed out. She never returned.1
---
Monday, December 2, 1946: After Paula failed to show up for classes, Mary Garrett, director of admissions, called State's Attorney William Travers Jerome, Jr. to the college at noon. Paula's father, W. Archibald Welden, also arrived on Monday. Paula had once mentioned that she would like to visit the Everett Cave on Mt. Anthony, so a few from the college with Henry Steele of Fairdale Farms as guide went there in the afternoon but found no trace of her. Members of her botany class visited sites nearby that had been mentioned in class. Williams College was alerted to be on the lookout for her. Abe Ruskin, a local taxi driver, stated he had taken a student to the bus station on Sunday afternoon, but couldn't positively identify her as Paula. There were several buses she could have taken - Pittsfield, NYC, Albany, or Burlington. The clerks at the station didn't remember anyone of her description, but were extremely busy that day. A broadcast was put out Monday evening with her description, authorities in NY and Mass. were alerted, and photographs circulated. As no one knew where she had gone at this time, no organized search was begun. Her roommate did say that she had mentioned being depressed in the last few days, and she had not gone home over Thanksgiving.1
Ora Telletier, a waitress at the Modern restaurant, waited on a girl matching Paula's description at 9:30 PM on Monday. See Thursday. 3
---
Tuesday, December 3, 1946: R.N. Thompson, manager of Vermont Transit in Burlington, said he would contact all the bus drivers who left Bennington on Sunday afternoon to find if she boarded any of those busses.1
At 5:30 PM, Ernie Whitman, night watchman at the Banner, noticed the photograph of Paula on the front page of Tuesday's Banner while cleaning the floor of the press room and told reporter Pete Stevenson that he had talked to the blond girl about 4:00 PM Sunday afternoon in Woodford. he and three friends were returning from a camp in Woodford when a girl approached them and asked directions to the Long Trail, saying she wanted to walk along it. Reporters questioned Stearns Rice and Miss Mary Rice of Silver Street and Lyman Royce of the same and their descriptions tallied with Ernie's. Mr. Welden was present at the Banner office and wanted to start a search immediately for his daughter. He, Frank Howe II, and Pete Stevenson obtained flashlights and drove to Woodford. Three residents confirmed they had seen the girl walking towards the Long Trail, lastly being seen near a camp called "Hunter's Rest". The three searchers worked their way up towards Glastenbury, covering a 20 foot swath on each side of the trail. They made it as far as a camp owned by William Lauzon located about 4 miles below the fire tower, but were hampered by three inches of snow which fell Sunday night. They woke Mr. Lauzon, but he hadn't seen the girl. Mr. Welden didn't believe she could have reached this camp because she would have had trouble crossing the stream and was wearing only sneakers.
Mr. Lauzon told them three servicemen had passed earlier on Sunday, also not dressed for the trail, and had left a suitcase with him. They had not returned, but were soon identified through the contents of the suitcase as J. W. Carrol, William Watts, and M. Golder. Mr. Lauzon also stated that 71 year old deer hunter Middie Rivers had disappeared from his camp one year ago.2
On Tuesday afternoon it was suggested to Mr. Welden that he get in touch with clairvoyant Clara Jepson in Pownal. Mr. Welden agreed and will drive to Pownal to see her today (Wed.). Mrs. Jepson had already been contacted by Paula's college friends and directed them to the covered bridge, but nothing was found.2
Searching on Tuesday afternoon was limited to the College Campus and the section of the Long Trail leading to the Glastenbury Fire Station which crosses Route 9 on the Brattleboro Road near Hell Hollow and Bickford Hollow.2
Late Tuesday afternoon college students and several faculty men went to Woodford and made a hurried search of the Long Trail as far as they could. They found nothing but several residents reported seeing Paula heading for the Long Trail about 4 Sunday afternoon without provisions or suitable clothing.2
---
Wednesday December 4: Authorities concluded there had been two girls in the area of the Long Trail on Sunday - Paula, who was alone, and another woman who was with a man who had a car. They both fitted the description of Paula, except the other woman was taller, and this may have caused some confusion among the witnesses.2
W Archibald Welden said his daughter would have had no more than $20 on her and left an uncashed check for $10 in her room.2
The girl Ernie Whitman talked to at about 4 PM Sunday asked him how far the trail went. He told her he had only walked about 5 miles of it, but that it went through to Canada. She thanked him and went on her way. He and his three friends observed her walking across a bridge which led only to the Long Trail. Three other Woodford residents reported seeing her walking up the trail near Hunter's rest. Frank Tschorn, superintendent of Buildings and Grounds at the college, took charge of the squads of volunteers who searched on Tuesday and Wednesday. Herman Spencer of Park Street, who had hunted the area extensively and usually stayed in the Sausville Camp halfway to the Glastenbury Tower, assisted in the search, as did Bennington College students as a body, Boy Scouts, about 25 Williams College students, members of the Green Mountain Club, and 30 others from the Bennington area. Paula's botany professor, Robert Woodworth, joined in the search. Searching was concentrated on the Bennington College campus and on the section of the Long Trail between Rt. 9 and the top of Glastenbury. Gary Buckley flew over the area. Organized searching of the College grounds began Tuesday and continued Wednesday.2
Brief Facts Reported on December 4
Danny Fagin, who worked at the service station across from the college entrance, remembered seeing a girl fitting her description come down the college drive about 2:30 PM Sunday afternoon, turn off into some woods to her right at the college entrance and run up a knoll across from his station, run back down a few minutes later and walk down Route 67A towards Bennington.
Ernie Whitman and three friends saw her about 4 PM in Woodford. She asked for directions to the Long Trail. She was seen by three other Woodford residents who said she walked up the trail near Hunter's Rest.
Abe Rushkin, Bennington taxi driver, said that Tuesday he had taken a college girl to the bus station at 2:25 PM. Sunday afternoon who was similar in description to Paula Welden. Inquiries made through R. N. Thompson, Vice President of Vermont Transit, showed none of the bus drivers remembered seeing her.
A check on students at Williams College showed none of her acquaintances knew where she was.
An intensive search will get underway Wednesday involving College Faculty members, Motor Vehicle Officers, and men from Bennington familiar with the Long Trail area.
All possible routes Paula may have taken out of Bennington have been covered and descriptions and photographs distributed.
At least 25 reporters and photographers arrived in Bennington on Tuesday to cover the search.2
A New Haven trainman reported a girl answering Paula's description bought a ticket in Springfield, Mass. for Charleston, SC. Mr. Welden said he would start an investigation but knew of no one his daughter would have known in Charleston.2
A restaurant employee in Boston said a girl matching Paula's description had applied for a waitress job.2
Girls from the College engaged in a systematic and fruitless search of the College grounds and surrounding woods.2
Other reports of those claiming to see her haven't stood up under investigation, such as: A claim made by Marcel Amyot of seeing a girl matching Paula's description leaving a bar north of Middlebury Wednesday morning.2
William Jerome notified Albany Police and New York State Troopers who sent out photos and description over the Police Teletype to surrounding towns and States. Jerome also notified immigration officials on the Canadian border. Photos were distributed throughout the Northeast. Radio stations put out a description and kept people informed on the search.2
Mr. Welden almost concluded on Wednesday night that his daughter might have gone on to Brattleboro, taken a train to Springfield, and be the girl headed for Charleston. This was being checked out.2
Sheriff W. Clyde Peck, familiar with the Long Trail area, entered the search on Wednesday night.3
On Wednesday, contractor Louis Knapp stated that on Sunday he picked up a girl hitchhiking who fitted her description on 67A and took her as far as his home in Woodford, 3 miles from the Long Trail. She asked him if he was going near Rt. 9 and he replied he lived a little way out along it. They talked, but only about the Long Trail. He arrived home about 3:15, as confirmed by his wife. The last he saw of her she was walking up Rt. 9 towards the Long Trail. He thought nothing more of it until 8 PM Wednesday night when he read Tuesday's Banner and saw she was missing.3
John Proud of the Adams Clothes Store stated at 7 PM Wednesday night he had sold clothes to a man on Saturday afternoon. The man was with two other men and said they might be going hiking, also that he was a student at a photographic school in New Haven. This man matched a description given by the Fall River Police early Thursday morning.3
On Wednesday night College President Jones issued a statement that authorities suspected foul play and that they thought Paula's body had been concealed. Three men who spent the last weekend at a camp near Glastenbury had already been questioned and everyone else in the Long Trail district would be.3
---
Thursday, December 5: Searching started at dawn in a seven square mile area between Bald and Glastenbury Mountains. Over 125 from Bennington and Williams college and local people assisted in this search, led by Sheriff Clyde Peck. Five aircraft were supposed to participate - pilots Gary Buckley who flew over the area Wednesday, Bennington Airport operator Bob Sausville, and Bill Freely, along with two aircraft from Stamford, CT.. 120 men from the State Guard were supposed to join the search. The total was close to 500 searchers. Each searcher carried confetti to drop to ensure each area was searched and none searched twice. An even more careful search was conducted on the "Blue Trail" over Bald mountain after a Bennington College faculty member found footprints Wednesday afternoon that might have been made by sneakers. The searchers found nothing. Mr. Welden told the Banner he was relieved with the result and satisfied with the way the search was carried out.3
At 1 AM Thursday morning Fall River Mass. police revealed they were conducting a house to house search after a report by a waitress that a girl of Paula's description had been seen in the Modern restaurant on Pleasant Street. All rooming houses, hotels, bus depots, and train stations were being searched. Ora Telletier, a waitress at the Modern restaurant, waited on a girl matching Paula's description at 9:30 PM on Monday. She was with a young man of about 25 who had been drinking. When he went to the counter, the girl signalled Ora to come over. She asked how far it was to Bennington Vermont, and then asked where she was. She said she had to get to Bennington and that she had arrived in Fall River with $1000 but had nothing left. The man was of heavy build, 5' 8" tall, and was intoxicated and abusive. The girl had not been drinking but seemed dazed.3
Thursday a woodsman on the eastern slope of Glastenbury reported he had heard what he thought was a woman screaming. Searchers rushed to Searsburg and entered through Somerset, but found nothing.4
Brief Facts Reported on December 5
A Woodford Hollow resident confirmed information supplied by Mrs. W. H. Myers, another Woodford resident, that a dark maroon car carrying a man and a girl answering Paula's description was seen there. The car had a Connecticut plate.3
There was a report that Paula took a bus out of Bennington at 8:30 PM Sunday night.3
Mr. Welden was waiting further description from the Fall River, Mass. Police.3
Louis Knapp, a building contractor living on Route 9 near the Furnace Bridge, stated he picked up a girl matching Paula's description at 2:45 Sunday afternoon. Mr. Knapp arrived at his home about 3:15. When he picked her up she slipped on the running board of his truck. She seemed cheerful. When they reached Bennington she asked if he was going near Rt. 9 and he told her he lived out that way. She said she was going on the Long Trail. The last he saw of her after reaching home she was heading in the direction of the Long Trail. He thought no more about it until he read the Tuesday Banner at 8 PM Wednesday night, when he contacted College Authorities.3
Ernie Whitman, last to speak with her, said she must have gone up the Long Trail because he and three friends saw her cross a bridge leading only to the Long Trail.3
Some authorities thought she might have cut off to the left on the Bald Mountain Trail or gone up Bickford Hollow. Footprints found on the Bald Mountain (Blue) trail could have been made by sneakers. Mr. Whitman stated that the snow didn't fall until later Sunday night.3
About 8 Woodford Hollow residents said they had seen the girl in the vicinity of Fay Fuller Camp Sunday afternoon.3
Mr. Whitman said Paula was wearing a jacket with a hood and Mr. Welden agreed her jacket had such a hood.3
Thursday night President Jones said the search of the Long Trail was finished, searchers had done all they could, and authorities believed Paula was not in that area. Mr. Welden said he was satisfied the search had been well conducted and that no stone had been left unturned. mr. Jones stated the next steps would likely include a nationwide radio appeal by Paula's father.4
---
Friday, December 6:The extensive search of the Glastenbury area was suspended. A conference at the College concluded she was not in the Long Trail area. Sheriff Peck and a bus load of Norwich University students went back in anyway.4
A $500 reward was offered for anyone giving information leading to locating Paula.4
W. Archibald Welden said Friday morning he was going to Albany to ask the FBI for advice.4
Search Headquarters at Bennington College received leads from all over the eastern part of the country and the Bennington area:
Step by Step Summary printed December 6
Paula told her roommate Elizabeth Johnson in Dewey House dormitory on Sunday that she was going for a hike.
She was next seen about 2:30 by two college friends as she walked down the front drive.
Danny Fager saw her come out through the College gate, turn to her right and walk into a small woods to the top of a knoll, then turn around and run down the knoll into the road and head in the direction of Bennington.
Louis Knapp picked her up on the Flats at about 3 PM. She asked how to get to Route 9 and he told her he lived out that way. She said that was fine as she wanted to walk the Long Trail. After he let her out he saw her start up the highway towards the Long Trail, 3 miles distant.
A woman who lives on Route 9 near Woodford saw a girl matching Paula's description hitch hiking on the highway.
Ernie Whitman then saw and talked to her when returning from a camp in Bickford Hollow at about 4 PM.
Numerous persons along the trail and in Woodford Hollow reported seeing a girl matching her description, but a couple was reported spending the night at Fay Fuller shelter. The woman looked like Paula and it is possible the witnesses confused this woman with the missing girl.
A pickup was reported traveling up and down the Woodford Hollow road and a woman walking her dog said she saw a woman matching Paula's description in the truck. A man said he had seen the truck and the man driving before and thought he came to Woodford to hunt.
Searchers have not only combed the region between Glastenbury and Bald Mountains, but have also worked southward from Kelley Stand to the top of Glastenbury, though it is unlikely Paula could have made it that far.
Mr. Welden on Tuesday night accompanied two newsmen up the Long Trail, interviewing residents and searching each side of the trail with flashlights as far as Bill Lauzon's camp. On Wednesday he went to see Mrs. Jepson in Pownal, who told him his daughter walked through a covered bridge and along the bank of a river, was still alive, and would be found in an old shack. On Wednesday night Mr. Welden carried out a search along the banks of the Walloomsac and checked the surrounding houses. On Thursday he said he was satisfied with the Long Trail search and believed his daughter was not in the area.4
---
Eventually a helicopter was brought in. Nothing was found, and steadily deteriorating weather forced the search to taper off. By December 15 it had halted and Welden returned to Stamford. In May when the snow went off he returned and organized another two day search, but no trace of Paula was found. A number of other leads developed but nothing panned out. Some confusion was evident as there was another woman who roughly fitted Paula's description (but taller) staying with a man a Fay Fuller Camp that night. They had a dark maroon car but were never found, though a similar (stolen) car was found burned out in New York State. A waitress in Fall River, Mass. reported a woman matching Paula's description who was with a man, seemed confused, and kept saying she had to get back to Bennington. Mr. Welden checked this story out personally, but nothing came of it. A dark truck left the area that night, supposedly with a blond girl as passenger, but the driver was located and interrogated and cleared. Sneaker prints found on the Bald Mountain trail several days into the search led the searchers to extend the search to that area as well.
This page is being updated periodically from sources of the time as I research them. Please keep checking back.
---
---
The weather
Online accounts say there was a misty rain Sunday afternoon or that it was spitting sleet. My grandfather's diaries from Dalton, Mass. 35 miles to the south say it was sunny on Saturday with temperatures in the 40's, 20 on Sunday, but only 5 degrees on Monday (he must have recorded temperatures in the morning). Historical weather records from Keene, NH and Albany, NY would tend to bear this out. Keene data:
| | | | | | | | |
| --- | --- | --- | --- | --- | --- | --- | --- |
| Day | JD | Month | State_id | Year | PRCP (in) | TempMax | TempMin |
| 27 | 331 | 11 | '274399' | 1946 | 0.38 | . | . |
| 28 | 332 | 11 | '274399' | ,1946, | . | . | . |
| 29 | 333 | 11 | '274399' | 1946 | . | . | . |
| 30 | 334 | 11 | '274399' | 1946 | 0.05 | 32 | 20 |
| 1 | 335 | 12 | '274399' | 1946 | . | 48 | 29 |
| 2 | 336 | 12 | '274399' | 1946 | 0.1 | 39 | 10 |
| 3 | 337 | 12 | '274399' | 1946 | . | 30 | 5 |
| 4 | 338 | 12 | '274399' | 1946 | . | 39 | 24 |
| 5 | 339 | 12 | '274399' | 1946 | . | 38 | 23 |
| 6 | 340 | 12 | '274399' | 1946 | . | 39 | 28 |
| 7 | 341 | 12 | '274399' | 1946 | . | 45 | 27 |
| 8 | 342 | 12 | '274399' | 1946 | . | 44 | 23 |
| 9 | 343 | 12 | '274399' | 1946 | 0 | 44 | 35 |
| 10 | 344 | 12 | '274399' | 1946 | 0.05 | 61 | 36 |
(Note from the chart above that the low for the day usually takes place in the early AM and the high at about 2 PM. So it would have been 10 deg. at Keene on the morning of the 2nd.)

It would appear that a cold front came through sometime late in the day or during the night of December 1. According to the Bennington Evening Banner for December 3, it was 50 degrees on Sunday when Paula started out, explaining her light clothing, but it got bitterly cold and windy later, possibly with blinding snow squalls as about 2 inches of snow fell overnight. By Monday it was 9 degrees in Bennington with a wind, and probably colder up on Glastenbury. The question I have to answer is just when this front came through and where she would have been on the trail at the time. A statement given in late December by a couple who left Bennington at 12:05 AM December 2 would indicate it started snowing about that time, probably no earlier than 11 PM. They had to stop to put on chains on Woodford Mountain. If this is so, Paula should have had plenty of time to get out of the woods before the cold and snow hit - in any case they wouldn't have been responsible for her being lost up in Glastenbury. The day is recorded as being overcast, so she would have had no moon, and November had been warm, so there was likely no snow cover.
---
---
Vital Statistics:
Date Of Birth: 1928
Age at Time of Disappearance: 18 years old
Height and Weight at Time of Disappearance: 5'5"; 123 lbs.
Distinguishing Characteristics: White female. Blonde hair, worn in a long bob; blue eyes. Fair complexion with much color; nose slightly turned up; cleft in chin. Walks with a long, springy step, has erect carriage; athletic type.
Marks, Scars: Grayish scar on left knee; vaccination mark on right thigh; small scar under left eye under eyebrow.
Clothing: Red parka jacket with fur trimmed hood, blue jeans, white sneakers with heavy soled Top-Sider size 6 1/2 or 7. She was also wearing a small, gold Elgin ladies wrist watch with narrow black band. This watch has repairer's marking, 13050 HD, scratched on the inside of back case.
Other: At the time of her disappearance, Welden was an art student interested in water colors, oils, pencil and charcoal sketching. She had assisted a mural painter and also done black and white illustrations. She had also done waitress work. She liked skating, bicycling, hiking, camping, swimming, square dancing and playing the guitar. She was especially interested in botany.
---
---
Recreating Paula Weldon's December 1, 1946 hike on the Long Trail
First Attempt:
On Saturday December 9, 2006 I attempted to recreate Paula Welden's last hike up the Bolle's Brook valley. Of course it is impossible to reproduce all the details exactly, especially the weather. On December 1, 1946 sunset was at 4:20 PM and twilight ended at 4:52 PM. Moon rise was at 12:49 PM and moonset at 11:31 PM, with the moon in the first quarter. On December 9, 2006 sunset was at 4:18 PM and twilight ended at 4:50 PM - very close to what Paula would have experienced. Moon rise was at 9:05 PM and moonset at 11:31 AM the following day, a waning gibbous moon. So essentially there was no moonlight on my trip, where Paula would have had some if the sky was clear.(From: http://aa.usno.navy.mil/data/docs/RS_OneDay.html)
---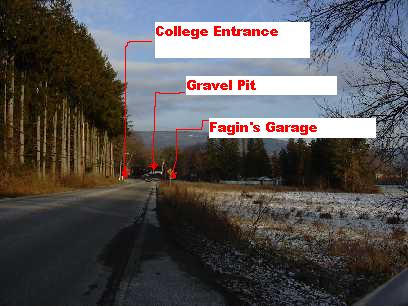 This is a view of the college entrance showing where Danny Fagin would have seen her run up and down the knoll by the college entrance. The knoll is on the near side of the college entrance. The garage was torn down last year. Note there is only a dusting of snow here!
---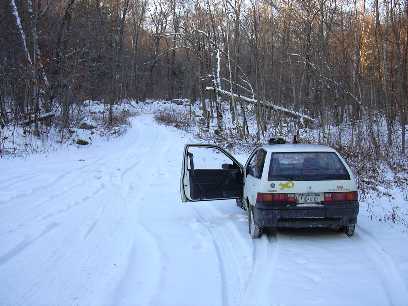 I leave from the end of Harbour Road at 3:45 PM - at least 20 minutes before Paula would have left this point, which is partly an attempt to compensate for the fact that she was 40 years younger than I am, 78 pounds lighter, and probably in better shape. (I also am carrying a fair amount of equipment and am dressed for the conditions, not wanting to carry this experiment to the ultimate same end!) The roads beyond here (FS 278 and FS 288 are in the new Glastenbury Wilderness and will probably be closed off soon, though there is a private camp on private land along FS 288 that relies on it for access. FS 288 is the old Long Trail.
---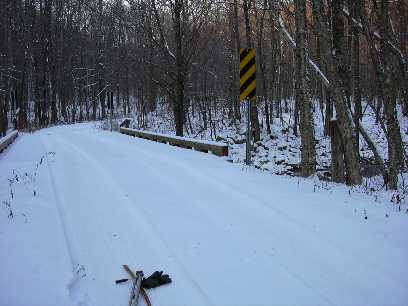 I reach the first brook crossing at 3:47 PM. I first walked this trail with my parents as a boy, probably in the late 1950's, but I don't remember for sure whether there was a bridge here or not at that time. A description in the Bennington Evening Banner of the time indicates there was, but it is hard to be certain.
---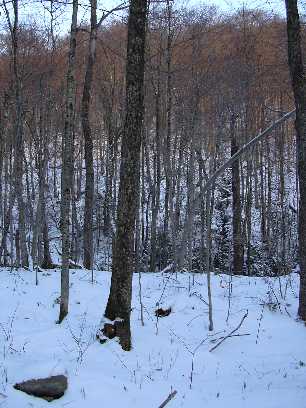 These two photos are of the sides of the valley. They are closer and steeper than they appear in the pictures. In fact, the trail is hemmed in by the stream on one side and the hill sides on the other. It would be hard to get very far off the trail.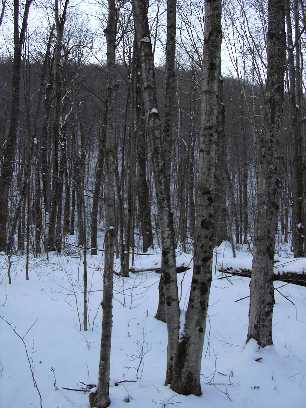 ---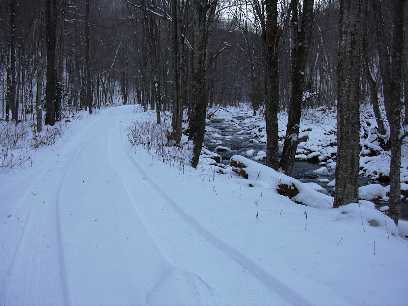 This is a photo of the old railroad bed (now road) following Bolles Brook up the valley. Hunters have been using the road and the tracks are icy and slippery.
---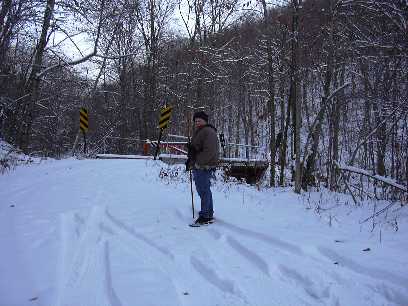 4:14 PM. Almost half an hour into the hike I reach the second stream crossing. I am certain there was no bridge here when I was young - the road diverted from the washed out railroad embankment to ford the stream here. W. Archibald Welden, on reaching this point, didn't see how his daughter could have gotten across. I had no problem as a boy, but it looks much more difficult now! Nowadays there is a bridge with a locked gate. No vehicles have been beyond here recently.
---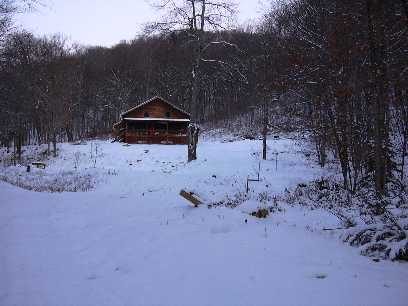 At 4:20 PM I reach this camp, which is at the mouth of a valley leading to the East. To the west there is another small valley. One could stray out of the Bolles Brook valley at this point, but it would still be a climb. This camp may not have been here when Paula hiked the trail.
---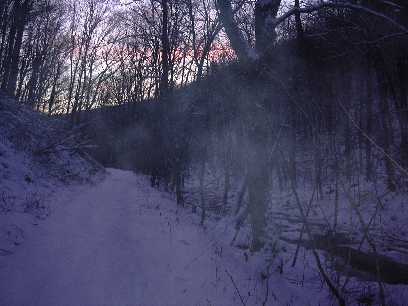 4:32 PM. This is a photo taken looking back down the valley about 15 minutes after sunset. There are no vehicles allowed past the camp and this section of trail is much rougher.
---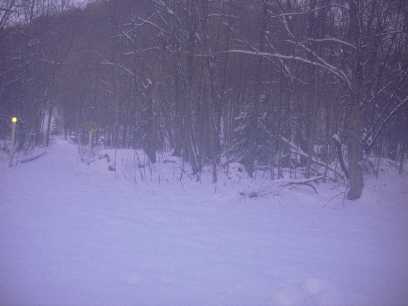 4:40 PM. I am at the head of the valley. This valley seems much smaller and more closed in than I remember it as a boy, but I guess that is to be expected. Things always seem smaller as you get older, and the trees have had over 40 years to grow. I was down through here from the Kelley Stand road in about 1980, but didn't pay much attention at that time, other than to the fact some fool had bulldozed the ruins of the buildings and charcoal kilns here. History is bunk??
The bridge to the left is the old Long Trail. To the right was the trail to Deer Cabin Brook - an old trail but more a hunter's path and not marked. When I was young, there was a rather difficult and poorly marked ford here. If Paula got this far and it was dark, she may have missed it and gone on the Deer Cabin trail or straight up the stream.
---
4:47 PM: The Deer Cabin trail runs up here - or used to, there is no sign of it now. The cold has killed my camera batteries and I am wading through 5 inches of snow (there was an inch where I started). Time to turn back, as I have no intention of wandering off the trail into the woods in this weather!
---
5:05 PM: I arrive back at the cabin. It is becoming difficult to see the trail, even with snow cover and a clear sky.
---
5:20 PM: I have to start using the flashlight, due to the icy ruts. Don't want to break a leg up here! If not for that, I still could have made out the trail well enough to walk it.
---
5:37 PM: I arrive back at my car. It is quite dark.
---
It is hard to see how Paula Welden could have gotten far off the trail unless she kept walking beyond the head of the valley. You are confined by the brook and the hill sides and are within sound of the brook the whole way. The ground off the trail is extremely rough, with rocks, standing water, gravel wash, and blow downs. This is why the initial search was confined to a narrow area along the trail. Mr. Welden initially didn't believe she could have made the first fording of the stream and would have turned around there. However, Long Trail hikers did it all the time.
She could have gotten off the trail and become injured, but it is hard to see how the searchers would have missed her body. A lot depends on the weather. As on this trip, there may have been snow up here already and it may have stayed where it melted off in Bennington. A photo of the trail several days into the search shows most of the snow melted off and bare ground showing through, but that is likely at the foot of the valley. There is a 700 foot gain in altitude over the distance I hiked. The most likely scenario is that she walked in a ways, turned around by dark, and hitched a ride back to town with the wrong person.
On the other hand, her roommate Elizabeth confirmed Paula had done this once before when she was along and they had spent the night in the woods in a pouring rain. If she did die up there it would be impossible to prove today - witness the difficulties finding the remains of servicemen in Vietnam even when it is known where they died. All we can do is eliminate options and try to guess what might have happened.
---
---
Second Attempt:
On Saturday December 23, 2006 the weather was more like the night Paula disappeared, and the times of sunset and twilight were about the same, so I made a second hike up the valley. A heavy rain most of the night before and during the day had taken off all the snow, and the temperature was in the 40's. Because of this, I traveled light as Paula did, just wearing jeans, a vest, and a light hooded sweatshirt.
---
I parked in the same place as last time, but left somewhat closer to the time Paula would have actually passed this point, according to research made since the first hike up the valley. Starting at 4:15, it was already too dark to take good photos with my camera, so they are somewhat fuzzy because of taking time exposures without a tripod.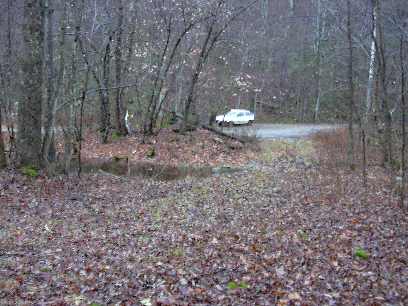 ---
At 4:22 PM I reached the point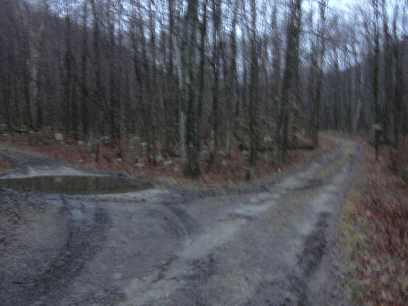 where FS 278 splits off from FS 288, the latter being the old Long Trail.
---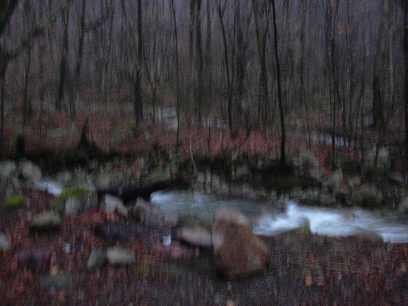 At 4:28 I pass a point where a stream comes down from the East. There is a valley there Paula could have gone up, if she left the trail and crossed the brook, but it is hard to see it and I doubt that she did.
---
At 4:44 I reach the second stream crossing.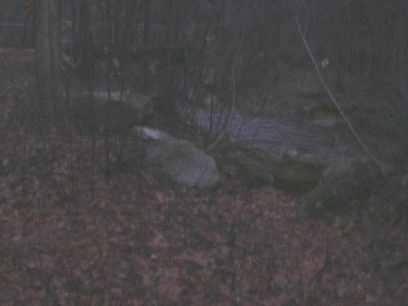 There was no bridge here in Paula's day - I take a photo of the place where one forded the brook. The stream is high today because of all the rain. Mr. Welden didn't believe his daughter could have made the crossing here.
---
4:54 PM: I pass the camp again.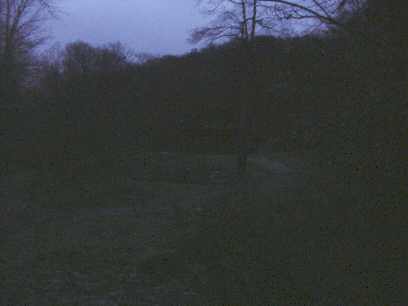 This was likely Lauzon's camp in 1946, but I am sure the original building has been replaced. It is now too dark to get a good photo with my Nikon 2 megapixel camera, but plenty light enough to see the trail. (I had to enhance this photo to get anything to show up).
---
5:06 PM: I again reach the head of the valley. Surprisingly, it is easier to see the trail than when I came up with a clear sky and the snow cover on. Paula should have been able to find the ford easily and to go on from here, but I am turning back again.
---
5:15 PM: A crescent moon breaks through the cloud cover for a few minutes, giving me more light for a while than Paula would have had.
---
5:20 PM: I pass the camp again. It is getting very dark, but I can still see the trail without a light.
---
5:30 PM: I reach the bridge at the second stream crossing. I can still make out the trail, but am stumbling over rocks and pot holes, so I start using the flashlight.
---
5:40 - 5:45 PM. I can't see the trail at all without a flashlight, though I find I can follow it by the sound of the stream and the gap in the trees overhead.
---
Somewhat to my surprise, though I started later this trip and reached the head of the valley almost a half hour later, the light was better and the trail easier to see with no snow on the ground and an overcast sky! I would estimate from the time it got too dark to see the trail on my return trip that Paula could have hiked 30 to 40 minutes farther north than I did before it got too dark.
Based on my two hikes, I have drawn a circle on the map representing the farthest Paula probably would have been able to travel on the trail before it got too dark. She would have just been short of Sausville's Camp if she kept going on the Long Trail. Of course, if she got off the trail, she wouldn't have been able to go even that far.
Next Spring I will have to try this. My guess is that she may have found a place off the trail to spend the night (as she and Elizabeth did 3 weeks before), planning to walk out in the morning. I also found she would have been very comfortable dressed as she was in the weather that evening, but she would have been totally unprepared for what happened later that night, when it snowed, the wind came up, and the temperature dropped into the single digits. It is doubtful she lived to see the sun come up.
---
---
The Long Trail:
The Long Trail has been relocated to the East since 1946 and no longer runs up the Bolles Brook Valley. The old trail still exists, however. In fact, the trail up Bolles Brook and Glastenbury Mountain, and the Deer Cabin Brook trail existed long before the Long Trail came into existence. The Long Trail itself has been relocated several times in this area. In a 1926 guide I have it runs up Hell Hollow to Hagar Clearing, then north along the Little Pond Road to Little Pond and on north, bypassing Glastenbury Mountain and the Bolles Brook Valley entirely, though the trails up there also existed. In 1935 it ran up the valley and up Glastenbury, but seemingly it took a slightly different path at the head of the valley than it did in my 1963 guide. This may be just the way it is worded, or because flooding in 1937 washed out more of the rail bed and forced a relocation in 1938. I believe from 1938 until the recent relocation to the East it ran pretty much as the 1963 guide describes it, but I can't be positive.
---
---
Footnotes
---
---
Home
| Last Updated: May-29-2014